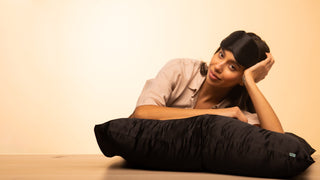 Mulberry Silk
Experience the replenishing moisturizing properties of silk, say goodbye to harsh cotton!
Unlock the Beauty of Mulberry Silk: Benefits for Skin and Hair
Hypoallergenic: Our mulberry silk is less likely to cause allergic reactions due to its unique protein structure.
Reduces Fine Lines and Wrinkles: Silk's replenishing and moisturizing properties help reduce skin problems like fine lines and wrinkles, unlike harsh cotton.
Heat Regulating: Silk can absorb up to 30% of its weight in moisture without feeling damp, keeping your skin dry and comfortable.
Anti-aging: Unlike absorbent cotton and polyester, silk doesn't draw moisture from the skin, helping to prevent fine lines and wrinkles.
Hair Protector: Silk's frictionless surface minimizes hair breakage, split ends, tangles, and bedhead, keeping your hair healthy and smooth.
Luxurious Comfort: Smooth and soft to the touch, our mulberry silk imposes negligible pressure on your body, following its natural contours and movements.
Introducing Our Silver Ion-Enhanced Silk Fabric: The Ultimate Anti-Aging Solution
We've taken the power of silk to the next level by infusing it with Silver Ions for unmatched benefits:
Anti-Bacterial: Our Silver-Ion Infused Silk Eliminates 99.7% of Bacteria, Preventing them from Performing Basic Functions and Maintaining a Fresh, Clean Feel.
Anti-Breakout: Say Goodbye to Acne Breakouts, Blackheads, and Whiteheads with Our Silk Fabric that Targets Cutibacterium acnes and Staphylococcus aureus, the Two Primary Bacteria Associated with Common Acne.
Anti-Odor: Our Silver-Enhanced Silk Suppresses Bacterial Growth, Keeping Odors at Bay and Ensuring Long-Lasting Freshness.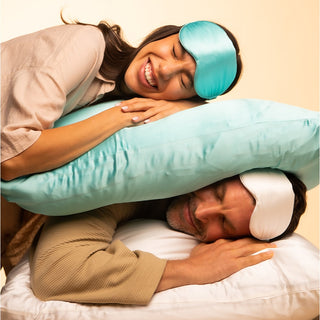 Enhance Your Beauty Routine with Our Anti-Aging Silk System
Our premium silk products are the perfect accompaniment to our collagen products, creating a comprehensive wellness homeware system that optimizes your skin, hair, and body care.
Made from the Highest Quality Silk: Our Silk Products are crafted from 100% Mulberry silk with a luxurious 22 Momme weight, graded as 6A, the highest possible quality rating.
Antibacterial Silver Ion Treatment: Our Silk is treated with silver ions, reducing bacteria by 99.7% for a fresh and clean feel.
Ethically Certified: Our Silk is manufactured using ethical practices, and is certified by Oeko-Tex®. We do not test on animals and our products are free from artificial chemicals.
Elevate Your Beauty Routine: Surround yourself with the indulgent comfort and performance of our Anti-Aging Silk System. Shop now and experience the ultimate in luxury and wellness for your skin, hair, and body.
Our Silk Products
Eyemask
Relax in Luxurious Comfort. Our silver ion-infused silk sleep mask treats your skin while you sleep, revitalizing and slowing signs of aging. Improve collagen retention with our premium silk eye mask.
Hair Accessories
Indulge in the Ultimate Hair Care Experience with Our Silver Ion-Infused Silk Hair Accessories. Our Collection Includes Scrunchies, Turbans, and Headbands that Prevent Breakage, Frizz, and Tangles, Providing a Soft and Moisturizing Way to Take Care of Your Hair.
Pillowcase
Float to sleep in soft and luxurious comfort with our silver ion-infused silk pillowcases. Experience the natural moisturizing and inflammation-reducing properties of silk that help reduce wrinkles and fine lines. Sleep in style and wake up to refreshed and revitalized skin.
FAQs
Below are some of the common questions: