Home Products
Proven and trusted quality premium products
Our Double Whisk Milk Frother will not Rust or Break — Ever
Built to last. Titanium engine, stainless steel double wisk.
No Hassle, Brightly Labs® Guarantee: We love and take pride in our milk frother and we back this up with a lifetime guarantee. Have the confidence that this frother will last, if there are ever any issues, just contact us and we will make it right. Order now and be assured that this product will live up to your expectations, guaranteed. If it does not make your foam exactly how you want it, we got you covered.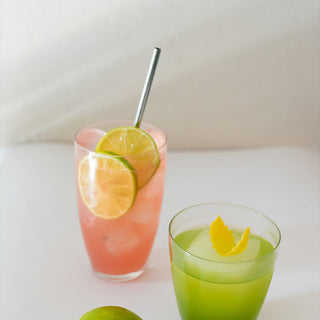 Our Brightly Labs® Glasses are Double Walled
This design will keep hot a little longer while the exterior wall stays cool for hand safe touch. Enjoy your hot drinks without burning your hands. Cold drinks will not form condensation. Another benefit is the fact, that our Brightly Labs® Glasses won´t leave any burn marks or wet rings on leather or wood tables. The bottom is wide enough to stand steadily on the table.
Brightly Labs® Double Wall Glasses are made of Borosilicate glass, which is a significant upgrade from traditional glass, and these differences can make a big impact on both your personal health and the environment when compounded over time.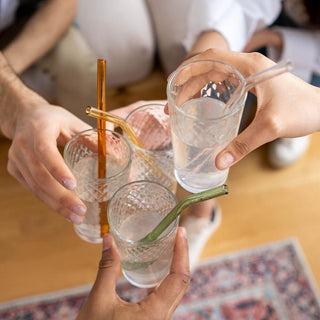 Match Your Straw with Your Outfit or Mood
Ready for our on-the-go lifestyle?
Sustainable Material: Made with highly durable and heavy-duty material which will not rust or fade. These straws do not only look great as they come in super nice colors, they are choice for everyone who wants to make a difference by using environmentally safe products.
Stainless straws
Our Brightly Labs® reusable straws are made of food-grade stainless steel. Forget plastic- our Straws can be used for any kind of liquid: cold or hot.
Glass straws
Our Brightly Labs® straws are made with tempered glass, that's much stronger and hardwearing than any paper material or silicone.
Why Choose Brightly Labs® Frothers?
Make Rich, Creamy Froth in Seconds
We coffee lovers are serious when it comes to our coffee. The Brightly Labs® Frother gives that professional finishing touch to your latte, cappuccino, macchiato or hot chocolate. Make delicious foamy creamer for your drinks at home without a trip to Starbucks, with your own milk frother. The benefits of having your own electric drink whisk mixer are endless, you can make your own best latte, you know yours tastes the best.
Matcha Whisking, Coffee & More
Works better than a manual matcha whisk for making matcha tea and works far better than a fork or whisk for coffee. It works very well to mix nutritious protein powder drinks with no extra container, blender or bottle shaker to wash. Use our frother for your whisking and mixing needs: Give healthy shakes and smoothies a kick by adding powder or egg nog flavor and mixing.
Easy to Clean & Store
The durable, convenient metal stand gives easy access for foamy goodness in seconds. Cleanup for this matcha wisk & frother is even faster. To clean just put the whisk in hot running water and briefly turn it on – instantly clean! When stored on counter or table it sits nicely next other coffee accessories. Our powerful and durable hand-held milk frother is powered by two AA batteries (not included) with a compact electric design that easily fits in a drawer.
FAQs
Below are some of the common questions: